Pressurized Grolwer Cleaning Kit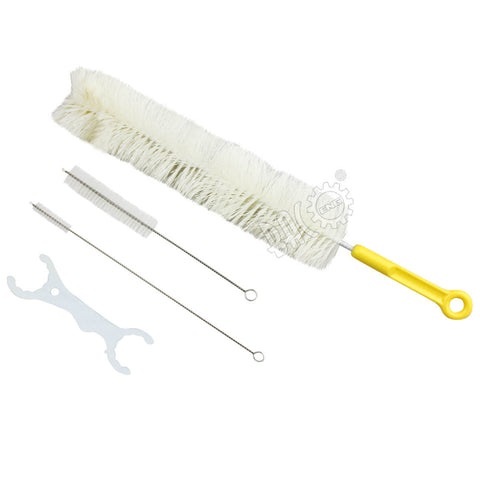 BACOENG Pressurized Growler Mini Keg Beer Cleaning Kit with Five Tools for 64oz, 128oz and 170oz Growler   The product comes in two sizes, please check the options carefully and choose the right size! A top condition beer keg is an obvious requirement for a great tasting brew. Combating the many eventualities within th
Description
BACOENG Pressurized Growler Mini Keg Beer Cleaning Kit with Five Tools for 64oz, 128oz and 170oz Growler 
 The product comes in two sizes, please check the options carefully and choose the right size!
A top condition beer keg is an obvious requirement for a great tasting brew. Combating the many eventualities within the keg is a task that must be taken on from time to time. This cleaning kit which consists of the flexible growler brush, the faucet brush, wrench, hose brush and faucet cap is one that will help you maintain your beer dispenser in premium condition! It is carefully comprised of relevant and top-quality tools that will deliver spectacularly on various tasks necessary for the cleaning of your beer keg. Kindly ensure that you follow all recommendations for use.
REGULAR FOR SPECTACULAR
Beer growlers require periodic cleaning because beer leaves behind yeast, protein, and mineral deposits that can affect the taste and smell of your beer.
THE ALL-SUFFICIENT KIT
This kit designed to clean most beer pressurized growlers, including necessary tools to keep your keg from bacteria. It's very convenient to complete your daily cleaning.
EFFICIENT AND INVASIVE
The flexible long brush allows you to thoroughly clean any growler regardless of its size (64oz, 128oz, and 170oz). The wrench can be used to remove the faucet and clean each part with the soft brush included.
THE STARTING FIVE
Growler Brush, Faucet Brush, Wrench, Beer Line Brush, Faucet Cap
Reviews