Brass/SS DC12V AC110V/220V Normally Open Solenoid Valve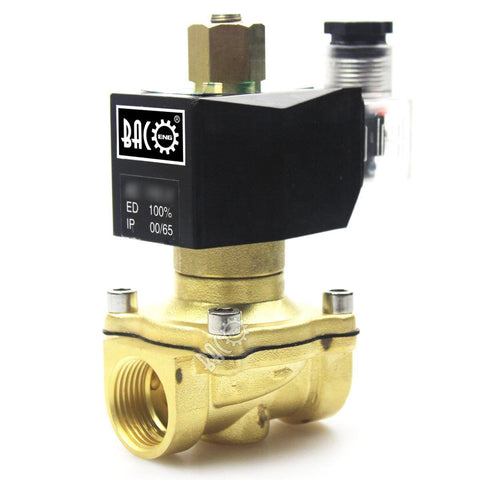 These valves are only shipped to US/UK/DE/ES/FR/IT country. Extra shipping fee needed if shipping to other countries. Shipping fee is calculated based on the actual cost. Valve thread: US/Canada - NPT thread default Other countries - BSP thread default Details• Pipe size: 3/4" 1/2" 1"• Voltage: DC12V  AC110V AC220V• Bo
Description
These valves are only shipped to US/UK/DE/ES/FR/IT country. Extra shipping fee needed if shipping to other countries. Shipping fee is calculated based on the actual cost.
Valve thread:
US/Canada - NPT thread default
Other countries - BSP thread 

default
Details
• Pipe size: 3/4" 1/2" 1"
• Voltage: DC12V  AC110V AC220V
• Body Material: Brass /Stainless Steel
• Working Pressure: 0~1.0Mpa (100PSI)
• Working Medium: Water, air, oil, gas, low viscosity fluids
• Temperature Limitations: -5~80 ℃ 
• Operation Mode: Normally open
• Plunger Tip: NBR
• Valve Type: Direct Acting, Wet Armature
• Connection: No Polarity, + and - can be interchanged
• One year warranty. 
• Package Includes: 1 x Electric Solenoid Valve 1 x User Manual 

Advantages
● It's brand new, good quality & high performance.
● We sell solenoid valve which use Brass coil inside. The coil is the most important part of a solenoid valve.
● Solenoid Valve use electric signal,Can work for automatic or Remote control. Medium pipeline on-off automation components have opened and closed quickly, property stably,easy to use,etc.
Reviews