Car AC Tool Set - manifold gauge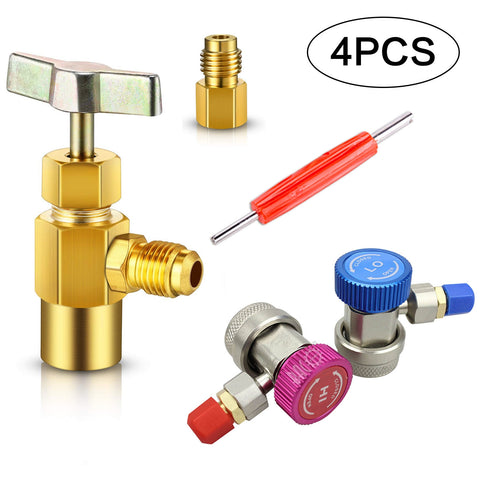 BACOENG Car AC Tool Set, R134A Quick Couplers with Refrigerant Can Tap and Valve Core Remover The R134A Car AC Tool Set can be used as a complement to the BACOENG R410a complete set (ASIN B079JJSFQW).  Professional AC R134A freon charging tool kit, come with pair of R-134A quick coupler, 1-piece can tap with tank adapt
Description
BACOENG Car AC Tool Set, R134A Quick Couplers with Refrigerant Can Tap and Valve Core Remover


The R134A Car AC Tool Set can be used as a complement to the BACOENG R410a complete set (ASIN B079JJSFQW). 

Professional AC R134A freon charging tool kit, come with pair of R-134A quick coupler, 1-piece can tap with tank adapter, 1 valve core remover.

R134A quick coupler, adjustable valve for easy attching and removal without freon leaking, accurate snap lock (5 ball) with knurled grip ring for easy operation, removable copper adapter for longer maintenance, 1/4 inch male fitting compatible with most automotive air conditioner diagnostic AC manifold gauge hose

Can Tap Valve Set, R-134A can tap refrigerant bottle dispenser with 1/4 inch male fitting, extra conversion tank adapter featuring 1/4 inch female to 1/2 inch male fitting, thus this set will fits both 1/4 and 1/2 inch female fittings AC gauge hose

Come with extra automotive high and low pressure side service port valve core removal and installation tool, dual head with thick and thin heads will fits most models
The R134A Car AC Tool Set
 can be used as a complement to the BACOENG R410a complete set (ASIN B079JJSFQW).  It is also suitable for those who need to repair and charge 
the car's air-conditioning system.
1 x R134A refrigerant can tap
1 x R134A refrigerant tank adapter
1/4 inch male fitting compatible with most automotive air conditioner diagnostic AC manifold gauge hose
Adjustable valve for easy attching and removal without freon leaking
Accurate snap lock (5 ball) with knurled grip ring for easy operation 
R134A Refrigerant Can Tap:
1/4 Inch SAE threads Connector and Opener screw is 1/2 inch ACME.
"T" handle for easy fingertip control, easy to install.
Heavy duty seals to prevent leaking.
Made of heavy duty metal to last under extreme conditions.
Easy to install and can connect common ac hose thread.
R134A refrigerant tank adapter:
1/2 Male ACME X 1/4 Female SAE
This set will fits both 1/4 and 1/2 inch female fittings AC gauge hose
Solid brass construction, build to last in your tool box for decades.
Reviews