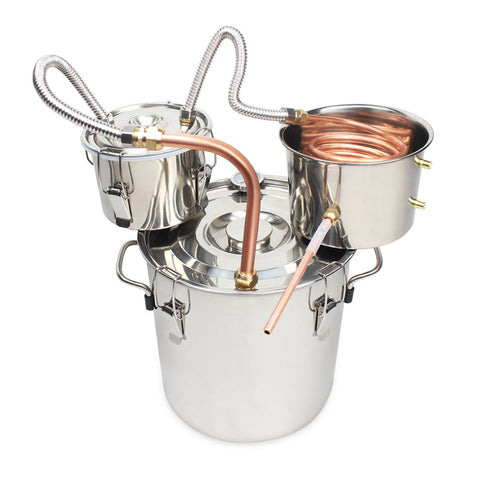 BACOENG 5Gal/20L Moonshine Still Spirits Water Alcohol Distiller Copper Tube Home Brew Wine Making Kit Stainless Steel Boiler Suitable Capacity The capacity of MoonshineStill Machine is 5Us gal. Boiler barrel: 11.8"x 11.8" (30 x 30 cm), condenser: 7.87" x 5.31" (20 x 13.5 cm), thumper: 7.28" x 5.12" (18.5 x 13 cm). All
Description
BACOENG 5Gal/20L Moonshine Still Spirits Water Alcohol Distiller Copper Tube Home Brew Wine Making Kit Stainless Steel Boiler
Suitable Capacity
The capacity of MoonshineStill Machine is 5Us gal. Boiler barrel: 11.8"x 11.8" (30 x 30 cm), condenser: 7.87" x 5.31" (20 x 13.5 cm), thumper: 7.28" x 5.12" (18.5 x 13 cm). All spare partsare made of food grade materials including silicone, stainless steel andcopper.
PromisingCooling Performance
The condenseradopts copper coil design. On the one hand, the copper can conduct heatrapidly. On the other hand, this design increases the contact area with thecoolant. The circulating water enters through lower inlet and drains from upperoutlet, which makes the temperature of distillation products decrease quicklyand greatly speeds up the condensation efficiency.
Convenient usage
On the lid isprecise thermometer showing temperature in Celsius and Fahrenheit, so duringthe process of distillation the operator can monitor the wine temperaturewithout using the stainless steam plate and gauze bag to prevent burning out.The bottom of boiler is thickened and you can heat it with gas stove, ceramicstoves, electric coil stoves, etc.
Tight Sealing
Both Boilerbarrel and thumper keg are equipped with four quick clips and silicone gasket tomake sure that the barrel is tightly sealed and steam will not overflow duringdistillation. Plus, the package comes with a one-way air evacuation valve,which can be used easily in the process of fermentation.
Wide application
Our MoonshineAlcohol Still can be used in different situations, such as seawaterdistillation, and team distillation. Users can makedifferent kinds of items in the moonshine stills such as Alcohol, Ethanol,Whiskey, Water Distiller, Wine Making, Essential Oils, Hydrosol, etc. As longas you own this full-featured equipment, a variety of needs can be satisfied.

Note:
Before usingyour pot still for the first time, we recommend that you process a distillationof water to clean away any impurities caused during manufacturing

Description
This complete setof 5 gallon moonshine still with thumper is easy to set up and use. It isconvenient both for beginners or expert distillers. It can be used fordistilling fruit wine, water, brandy and refining plant extracts for medicinalpurposes. This pot still can be heated by induction cooker, stove or any otherheating sources.
Package Content
1 x Alcohol Distiller
1 x Thumper Keg
1 x Condenser Keg
2x 90cm silicone hose
1 x Thermometer
1 x One-way Air Evacuation Valve
1 x Manual
Specification
BoilerBarrel: 5US GAL (20L), 11.8" x 11.8" (30 x 30 cm)
ThumperKeg: 7.28" x 5.12" (18.5 x 13 cm)
Condenser Keg: 7.87" x 5.31" (20 x 13.5 cm)
GrossWeight: 12 lbs (5.5 kg)
Material:Stainless steel + copper
PackageDimensions (L x W x H): 15" x 15" x 14.5" (38 x 38 x 35 cm)
Reviews