BACOENG 1/2 HP Automatic ON/OFF Water Removal Pool Cover Pump 1320GPH w/ 32.8ft Cord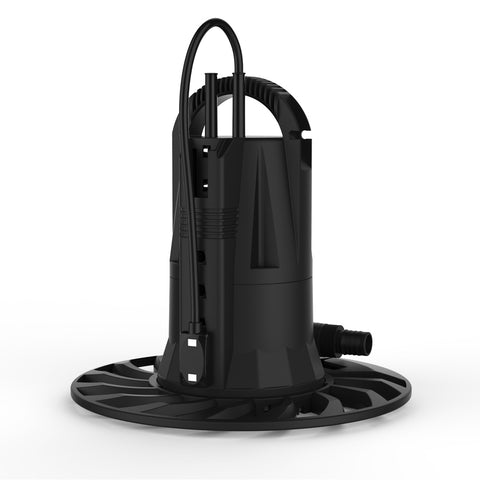 * 1320GPH, Max 16ft, 32.8ft long cable, 110V/60Hz, 400W, Equipped with multi-size hose connector 1" & 1 1/4": * Plug in and leave the pump unattended for worry-free water removal * Adjustable working mode. Activates in a minimum of 0.2inch of water; Insert the switch into the uppermost groove and the pump will keep
Description
* 1320GPH, Max 16ft, 32.8ft long cable, 110V/60Hz, 400W, Equipped with multi-size hose connector 1" & 1 1/4":
* Plug in and leave the pump unattended for worry-free water removal
* Adjustable working mode. 
Activates in
 a minimum of
 0.2inch of water; 
Insert the switch into the uppermost groove and the pump will keep working continuously
* Strainer base filters debris to minimize clogging and keep pump from tipping over. 
Removable and easy to clean;
* Built in handle for portability and ease of placement and removal
PARAMETERS
Material: Thermoplastic,Metal,
Power: 1/2HP(400W)
Voltage/Frequency:115V/60HZ
Max Flow Rate: 1321GPH
Max Lift: 16.4 Feet
Power Cord Length: 33 Feet
Discharge Size : 1", 1-1/4" hose barb &1", 1-1/2" thread
Warranty: one-year
PRODUCT FEATURES
This CSP400C-4(1)B is an automatic on/off water removal pool cover pump. Max. Flow rate is 1321 gallons per hour using 1" & 1-1/4" drain hose barb. 33 foot power cord (always plug into a gfci outlet), to help position the pump on the pool cover. 
The pump has a protection circuit to protect the motor from overheating. This unit can automatically stop the pump when something goes wrong.
OPERATION TIPS
1.When temperatures drop below freezing remove pump from service and store indoors to protect pump from damage due to ice;
2.If you want the flow be bigger, the height of your drain hose should be lower, and better using the 1.5 inch discharge port.
HOW TO USE IT
Mode 1: Continuous work
Insert the switch into the slot and the pump will keep on working.
Mode 2: Auto work at a low water level
Insert the switch into the slot on the bottom of strainer, then the pump will start pumping if the water level higher than 0.12inch.
Reviews