A Tap Door Mount Kegerator Conversion Kit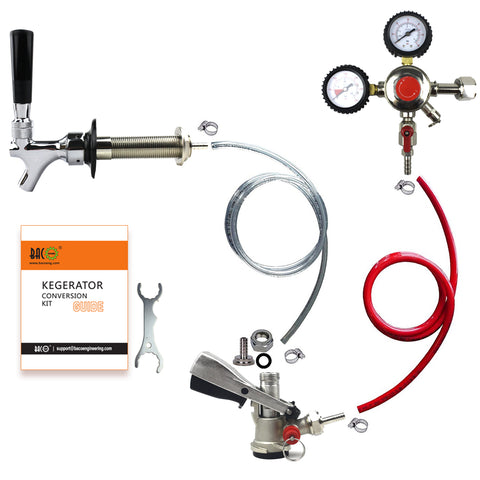 Set up a home or commercial brewing system to serve cold draft beer using the BACOENG Kegerator conversion kit. It includes all necessary tools you need to make your work processed easily and saves you hundreds of dollars. It is ideal for seasoned beer enthusiasts looking for a reliable Kegerator before spending a fort
Description
Set up a home or commercial brewing system to serve cold draft beer using the BACOENG Kegerator conversion kit. It includes all necessary tools you need to make your work processed easily and saves you hundreds of dollars. It is ideal for seasoned beer enthusiasts looking for a reliable Kegerator before spending a fortune on a commercial unit, or people who are just starting out. The BACOENG Kegerator conversion kit offers value for your money, as it comes with several quality parts. A normal purchase of a commercial Kegerator costs about $500 and now you only need to use the BACOENG Kegerator conversion kit to get a fresh home-brewed beer less than half the price! Start your DIY keg system tour!
* DUAL GAUGE REGULATOR: It comes with an appropriate pressure dial that features the style of a knob for regulating pressure. With a weight of 3 pounds, the unit comes with rubber covers for protective purposes. You can use the gauge to know the pressure outside and inside the CO2 tank –you will not have to be worried that your gas might run out. It also has a shutoff valve that features a built-in spring for preventing the backflow of beer. Pressure Relief Valve Releases at 45PSI.

* LEVER HANDLE KEG COUPLER: This refers to a D System Keg Coupler that has a strong construction made of nickel-plated forged brass. The probe is made of stainless steel. The unit can be used alongside any domestic brand American D system Sankey kegs. The coupling of the keg is quite convenient with the availability of a pressure relief valve, which allows you to release any over-pressurized gas to prevent it from entering the keg.
* CHROME BEER FAUCET WITH BRASS LEVER: Featuring a forged brass body and highly polished chrome finish, this beer faucet puts a stylish finishing touch on your kegerator at a price you'll love.The brass shaft assembly and lever includes a non-stick ball washer for smooth operation, and the lever has standard threading that is compatible with most branded tap handles. This 4-1/8" long beer shank with nipple assembly is constructed from chrome-plated brass and can be mounted through a 1" hole.
* STANDARD METAL BEER FAUCET WRENCH: You need the ideal wrench spanner for loosening or tightening shrank collars easily and quickly without the worry that you will scratch your faucets, and the standard metal beer faucet wrench is just the right tool. The all-mental sturdiness of this wrench makes it quite durable as well as ideal to handle any tightening or loosening needs. It is 5-1/4" in length, which makes it easy to use on any surface.
*DETAILED MANNUAL: The package contains a detailed manual to help you use the Kegerator conversion kit to create a beer dispenser from your refrigerator.
Package Includes:
1 × Dual Gauge Co2 Regulator
1 × D System Coupler
1 ×  Faucet
1 × Shank
1 × Wrench
4 × Clip
1 × Manual
Reviews